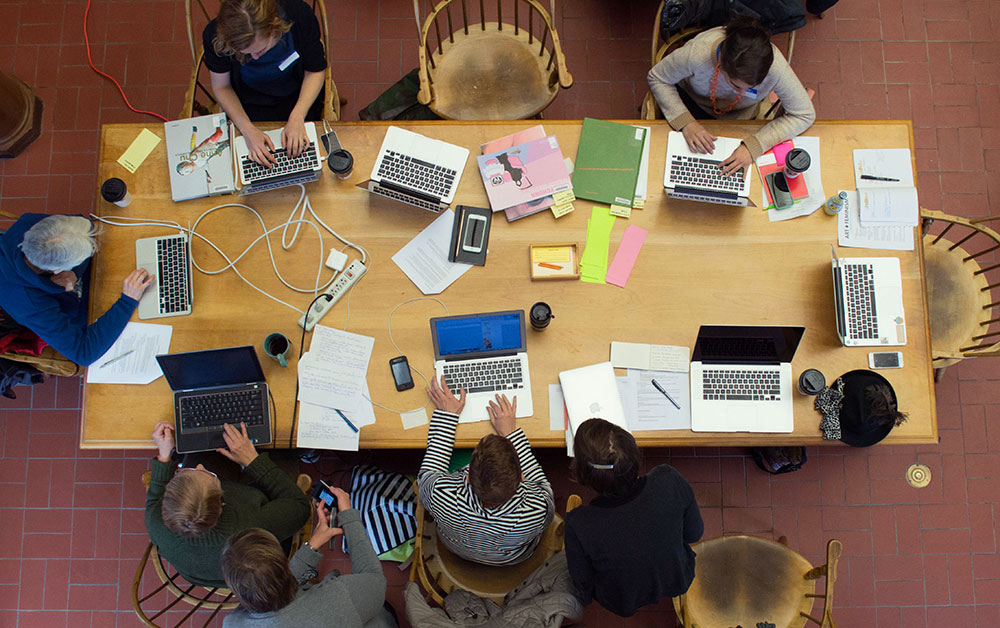 Participants at a Code for Pittsburgh event in 2016. Photo courtesy of Code for Pittsburgh.
Introduction: What are data user groups?
Data user groups refer to intentional opportunities for city residents to come together, meet, share ideas, and collaborate on new projects related to open data. Data user group meetings give data providers (city agencies, for example) a chance to hear feedback from residents about how to make data more applicable and usable. These events also give data users and community members a chance to learn about data, express their information needs, and collaborate around local issues in a non-intimidating, community-oriented environment.
This playbook is designed to help city staff, researchers, and community practitioners understand what a data user group is, and how it can help strengthen communication between data providers, users, and intermediaries to solve community challenges.
A model that started in Pittsburgh
Data user groups have been pioneered at the Western Pennsylvania Regional Data Center (WPRDC) in Pittsburgh, PA. WPRDC supports key community initiatives in greater Pittsburgh by making public information easier to find and use. The Center also provides a technological and legal infrastructure for data sharing to support a growing ecosystem of data providers and data users.
As part of that work, WPRDC convenes regular data user group meetings for beginners, experienced data users, or local practitioners in specific subject areas. Sunlight Foundation staff had the pleasure of attending one of WPRDC's data user group meetings in person in March 2017. That was where we first saw this approach in action. This playbook is built on WPRDC's data user group model. WPRDC staff also reviewed this playbook before publication. We are grateful to them for sharing their time, expertise, and exemplary work.